Hi everyone, sorry this is late but I've been so busy, and as much as I'd love to keep my schedule sometimes it's impossible. So last Thursday I met up with my wonderful and bestest friend Clare in Basildon, along with her amazingly cute and beautiful daughter (makes me want a girl so bad ><). When we can we meet up in Lakeside but when I haven't got access to a car we meet in Basildon as it's more suitable for us both. Plus with the way things are going Basildon is becoming a much better place to shop then Chelmsford. I know Chelmsford is getting a John Lewis but until it starts getting better shops in their Meadow centre it's as good as dead.
Anyway so what did I buy? Well I wassssss planning to only buy myself some shoes, a cheap little top for my the launch I'm going to this Thursday (hehe excited!) and an Easter egg for David........that didn't happen nope brought lots more but thankfully it all worked out. I first met Clare at the Cosmos Cafe and we're so lucky we are good with times as I STILL haven't found my phone charger seriously no idea where the hell that's gone urgh! We then decided to head to Wilko's I was very tempted to buy some frames but I held myself back and decided to get them at a later date. At least now I know where to get big frames from, I love wilko so much sadly it's always the last shop I think to buy from for some reason. After that we headed to Hobby Craft, I wanted to find out if they did bird houses, unfortunately they didn't well they did but it was £7 you had to build it yourself, it wasn't a very nice design and the paints they came with were rubbish. Earlier on the week I found a much nicer one on Etsy for just £4 and it's already built and the design is lush! I did however buy some silicone flower pots for baking cupcakes in, me and David might cook them later on in the week.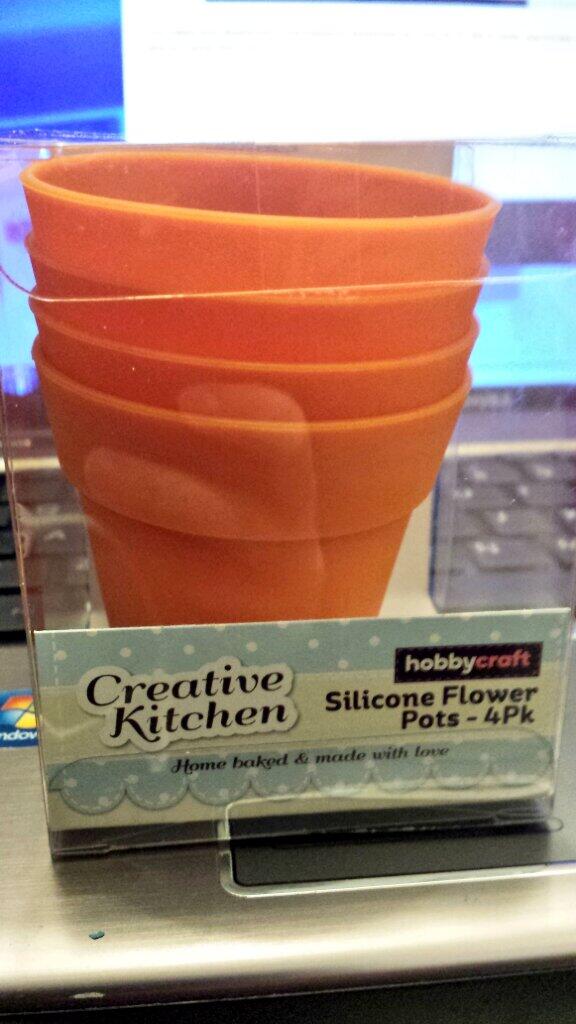 Only cost me £1!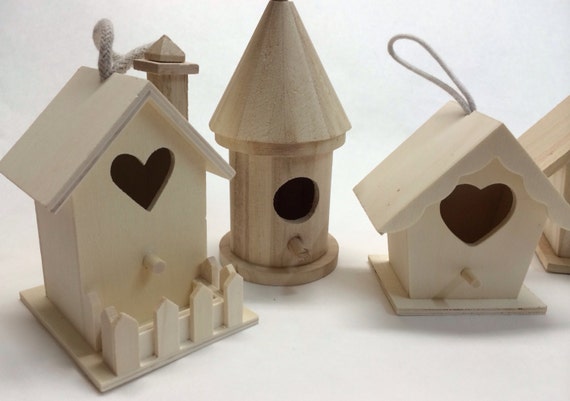 I want the one with the fence!
Next we stopped in Home Baragins and I brought David a windmill and welcome sign for his little garden and some jellybeans in the shape of a carrot. They are to go along with his Easter egg. I also got myself some chocolate stars nom nom.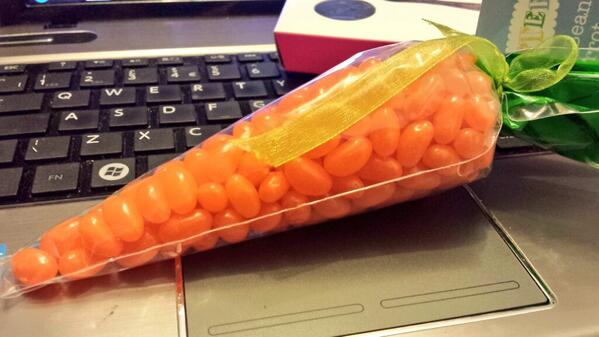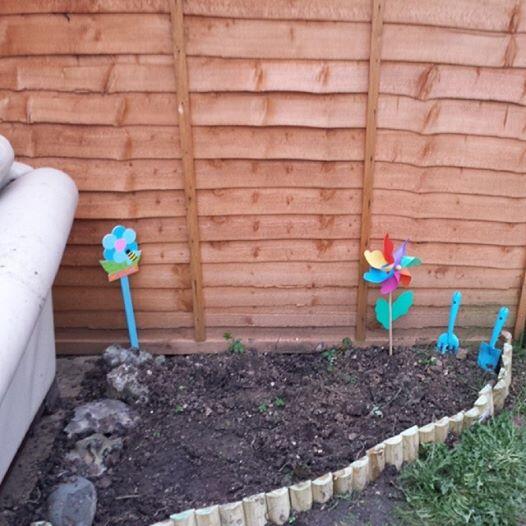 After that it was time for a toilet break and then lunch! I of course had Taco Bell, I always get Taco Bell because Chelmsford doesn't have one so it's the only time where I can satisfy my Taco Bell needs. After fueling up it we stopped by H&M as some shoes I brought Hollie were way too big (whoops haha) so Clare exchanged them for some other goodies for her daughter. I shouldn't of stepped foot in that shop as I didn't walk out empty handed. I brought David and Hollie some clothes, I couldn't resist buying Hollie some cat tights and a cat top I was quite jealous actually wish they did them in my size haha. All the clothes that I brought were of course in the sale so I saved myself some money. I brought David a pair of Darth Vader tracksuits (inner geek made me do it) and an Avengers top.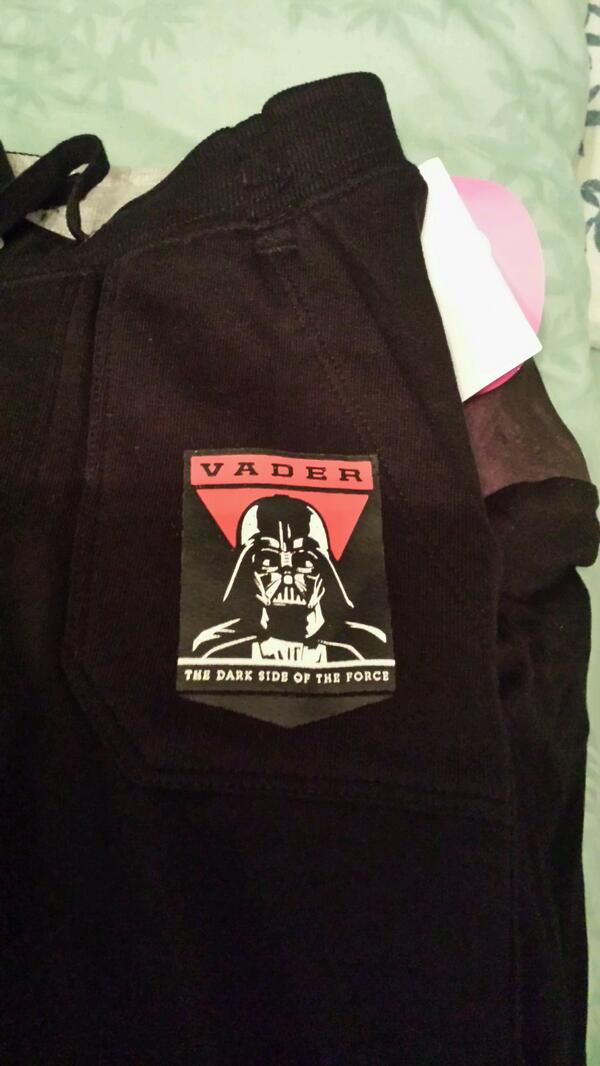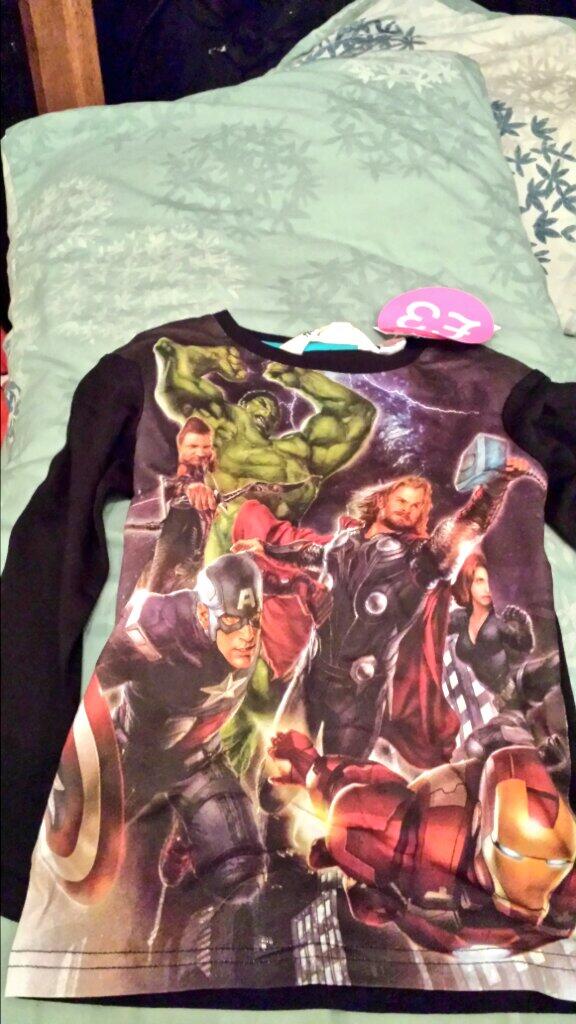 After that it was time to hunt down the shoes for the launch next week. We tried Deichmann's, Topshop, and Shoezone. It was Primark that was the winner in the end. I managed to get myself some amazingly lush boots to go with my outfit. You know what's even better though? I got them for £3! They were marked at £18 but the till said £3 and it was the correct barcode and everything so she had to sell them to me at £3! I couldn't believe my luck, what a bargain! I also brought myself 2 pastel tops (which I ended up exchanging the next day for something much better) and a pair of knee high pink pastel socks which are incredibly cute. Oh and a unicorn bag I HAD to buy!
Just before that we went to Savers I got myself a lush pair of fake eyelashes, normally I don't buy fake eyelashes but I got some for a special occasion. After we finished with Primark we headed back to Asda too meet my parents then I quickly popped to Toys R Us to get David's Easter egg. Sadly they sold out of the one I wanted to buy David (typical) so I brought David a Jake and the Neverland Pirates Easter egg instead. I saw a cute playhouse I want to buy David as well that's if Jake's dad doesn't build it who knows? We went back to Asda and yet again I was naughty and brought David yet again more clothes! Though I did manage to also buy myself some nail polish and the Aqua shampoo I've been dying to try out.
So that's all that I brought though I didn't take pictures of everything been far too busy with everything else! Hope this was a good haul and hopefully I'll have more in the future! Check my parental blog tomorrow for my post about what me and my son have been getting up to in the week
www.candyfl0sscloud.blogspot.co.uk