Hi everyone again. Wow I swear I only posted my other beauty review a couple of days ago as it really been a week already? Well little more then a week. Yeah sorry guys but last night I went out and enjoyed myself instead such a crime huh!? Yes before you ask I did have a lovely time, infact I'm writing this while David is still in bed! We must of really worn him out last night not to mention all the attention he gets from the waitress's and customers let alone us. Wait that probably made it sound like people come up to us.....no when we were walking around so David didn't have to sit in the highchair all the time ha ha.
Anyway less of my nonsense on with the review I say! So a little bee told me there was a competition going on at the Original Source, so of course I went and entered. It was to be in with a chance of winning a new shower gel they were bringing out in Summer but you had to vote for your favourite flavour. Yep you guessed it the one I wanted to win did and because of that I got sent a sample. Yay, I actually thought that is was only going to be a tiny little bottle but could you guess my shock when this giant thing turned up at the door!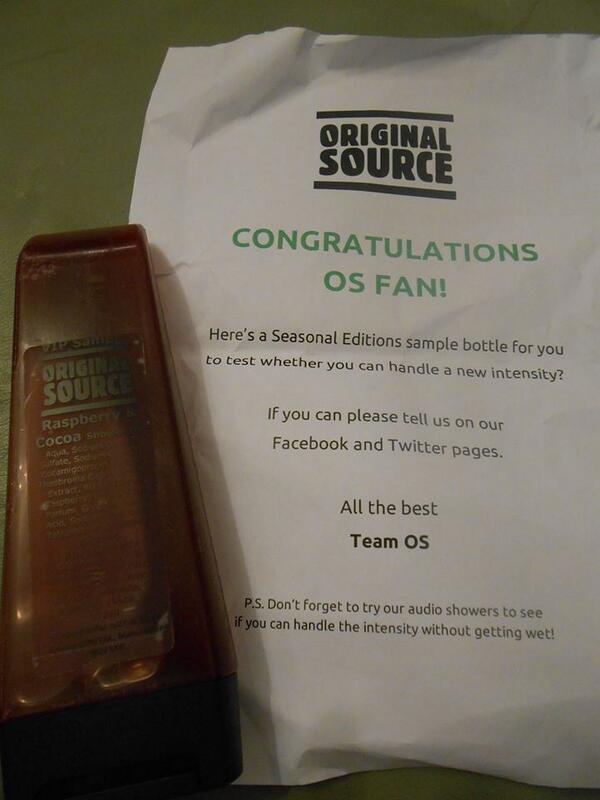 It's not the best picture and I do apologise but look how big it is, it's a full sized bottle! I opened the lid straight away and sniffed it...I actually got some on my nose ha ha. It did indeed smell of Raspberry and chocolate. Infact if you have ever had raspberry and chocolate gateau it smells exactly like that. Oh and that sweet I can't remember what it's called but it has like a raspberry jelly and it's covered in chocolate...has pink wrapping I can't remember.
So I've used this in the bath twice now washing my body with it and I'm pleased to say I'm happy with the results. Okay it doesn't leave my body amazingly smooth like other beauty products focus on but it doesn't claim to do that anyway. The smell it leaves on my body isn't overpower either which I like as I hate over powering smell. Probably down to the perfumes I've grown up with, with my mum on bingo night god I'm surprised I don't have asthma!
I also noticed that I didn't have to use much to get a good use out of it. It foams up really well and the tiniest blob will give you enough to wash your whole body. I normally am quite generous with how much body soap I use but with this I didn't have to use hardly any. Well I think that's it for this review I'd give this shower gel 4/5. It will be out in Summer 2014 so keep your eyes peeled. If you didn't read last weeks posts you can
click here
. Next week I'll be reviewing Pixi's lip balm pencil with surprising results for my dry lips!
Have you a fan of Original Source?